Analogue Digital and Digital Analogue Converter Interface Card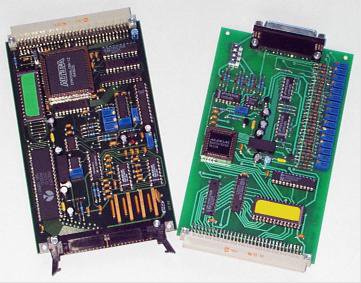 The Si-Plan Analogue Digital and Digital Analogue Converter Interface Card enables a RISC OS computer to be connected to external equipment such as pressure transducers, load cells and thermocouples. Information from these devices can be displayed on the computer and used to generate output signals to further equipment. For example, information about temperature and humidity can be used to control air conditioning installations.
The ADC DAC Interface Card is available on a single width eurocard, designed to fit into the Acorn Risc PC range of computers. (The card only functions with RISC OS operating system computers. It is not compatible with other formats.) Connection to the outside world is via a 50-way box connector.
The standard card has 16 analogue input channels, 2 analogue output channels and 16 digital channels, which can be designated individually by software as input or output. Add-on cards, using 8 of the digital channels, can increase the capacity to up to 64 digital input/ output channels. Three versions of the add-on card are available:
16 digital input channels
16 digital output channels
8 digital input and 8 digital output channels.

The cards are optically isolated, giving an added level of protection to the computer.

The analogue to digital converter is a 12 bit device with a maximum conversion time of 2.7 microseconds, achieving a throughput of around 333KHz on a single input channel. The 6522 VIA chip fitted to the board can be fully used; all signals are taken to the connector. The PB7 line can be used to trigger the AD conversions, giving the accurately-timed samples essential for some applications.

The 16 inputs pass through a bank of analogue switches to an instrumentation amplifier, normally giving an input sensitivity of plus or minus 10 volts. (Alternatives are available.)

The signal return for the amplifier is usually via the 'Return' pin but can be programmed under software so that the inputs are paired to give fully differential inputs.

Interrupts can be generated either by the VIA, or when an AD conversion is complete. The two are independent of each other and can be software programmed for interrupt requests (IRQs) or fast interrupt requests (FIRQs).

The two bit DACs are of the four quadrant multiplying type. For non- multiplying applications, the 'Ref In' pins can be connected to the 'Ref Out' pin giving an output voltage range of plus or minus 10 volts.

The card's on-board driver modules cater for reading and writing the digital and analogue levels over multiple boards, setting up interrupts for different events and interrupt-based data logging and generating waveforms.

The card comes complete with example BASIC programs showing how to use the various driver calls. Also included is a software package of powerful desktop applications running in the RISC OS environment, featuring:
Analogue-digital control.
Digital-analogue control slider.
Data logger with rolling graph display.
Digital input/output.
Digital panel meters.
Waveform generator.
XY plotter.
Price: £450.00 plus VAT.

Also available:
32 channel digital input/output card.
Octal DAC card with 8 analogue output channels (13 bit high resolution).
Updated 20 April 2005
---
Si-Plan Electronics Research Ltd, Avenue Farm Industrial Estate,
Birmingham Road, Stratford-upon-Avon, CV37 0HR, UK
Tel International: +44 1789 205849 | Tel UK: 01789 205849
Fax International: +44 1789 415550 | Fax UK: 01789 415550
www.si-plan.com
enquiries@si-plan.com

---