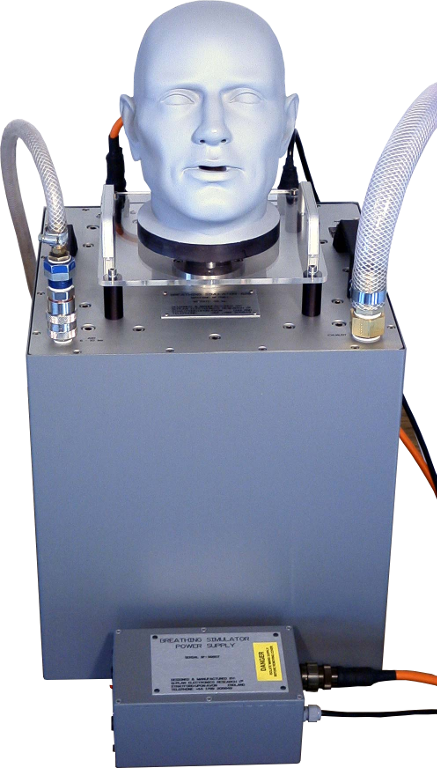 Configured for testing breathing masks with a dummy head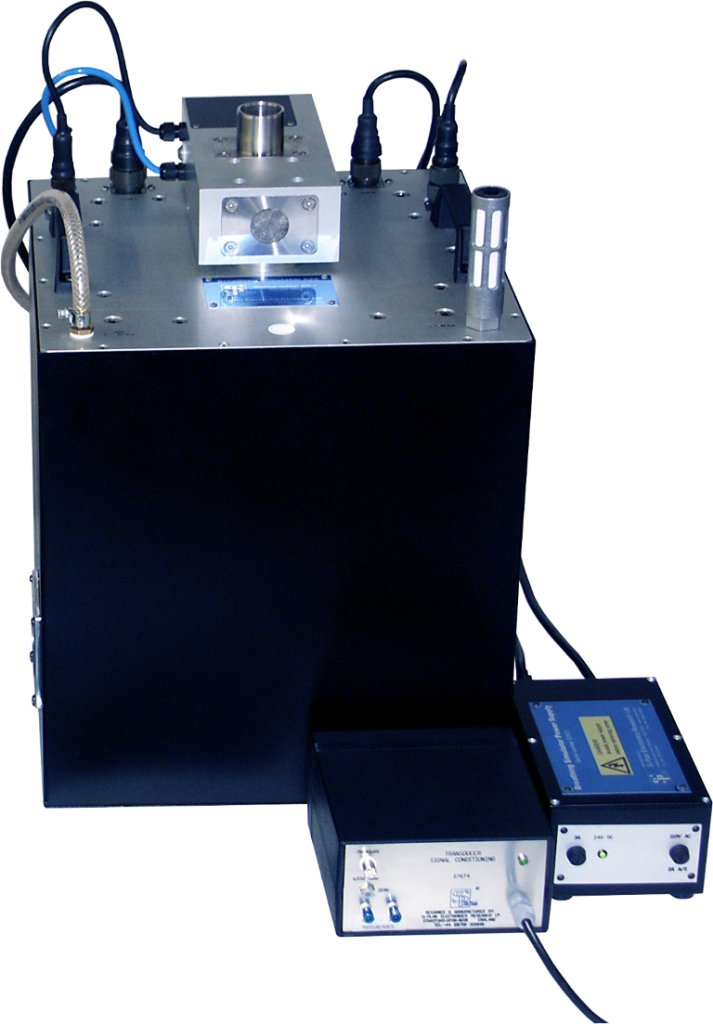 With change over valve for repeated inhalation or exhalation only profiles. Typically for use in the pharmasutical industry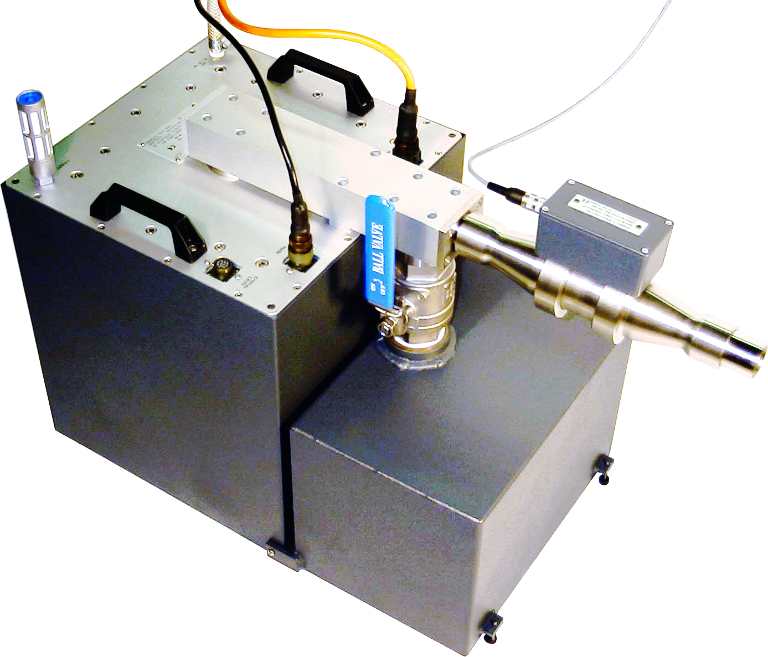 With down stream 20l chamber & pneumatach flowhead
Stand Alone Breathing Simulator
Si-Plan's '625' breathing simulator can reproduce an infinite range of breathing profiles that have been recorded from subjects or created in spreadsheet programmes, as well as sine, parabola, square and triangular waveforms. Breathing rate, flow pattern and frequency are fully adjustable.  The breathing machine can be programmed to perform a single inhalation through to many thousands of inhalation / exhalation cycles for endurance / fatigue testing, for example.
Breathing Simulator System Specification
Maximum tidal volume
6.25 litres
Minimum tidal volume
100 millilitres
Minimum breaths per minute
5
Maximum breaths per minute
60
Maximum minute volume
375 litres per minute
Minimum minute volume
0.5 litres per minute
Maximum flow: step input to bellows position
1200 litres per minute
Maximum flow: sinusoidal wave at 1 hertz
800 litres per minute
Maximum flow: square wave at 1 hertz
800 litres per minute
Maximum rate of change of flow (gas acceleration)
Up to 444 litres/sec2
(0 to 800 l/min in 30 milliseconds.)
Normal working pressure of bellows
Up to 10 kPa.g
Maximum differential bellows pressure
40 kPa.g
Height (including feet, handles and exhaust filter)
585 mm
Width
370 mm
Depth
370 mm
Weight
55 kg
Computer operating system
PC with standard software package installed ready to run.
Microsoft Windows®
Operating conditions
Ambient pressure range 2 to 1200 mbar (abs);
Ambient temperature range: minus 5 to plus 50 degrees centigrade;
Ambient humidity range up to 90% relative humidity.
Supplied with documentation pack

Operating, users and maintenance manual.
Electrical wiring diagrams
Mechanical general assembly drawings and parts lists
Manufacturer's information with bought-in parts

Figures quoted above are based on an air supply pressure of 6 bar.
Constructed with stainless steel bellows driven by a servo-pneumatic actuator.
Superior gas acceleration (rate of change of flow) up to 1200 litres/sec2. We believe that this is a critical factor in reproducing a wide range of breath profiles, rather than breathing rate.  Servo-pneumatic technology enables the bellows to be moved at a much faster rate than an electric actuator.
Bellows are leak-free and have no seals to wear out .
Bellows good for many millions of cycles.
No possibility of sparks, therefore entirely compatible with oxygen-rich gases.
Option to reproduce flow profiles or pressure profiles
Applications
Si-Plan breathing simulators are used by pharmaceutical companies in the development and testing of inhalers (eg dry powder inhaler DPI and pressurised metered dose inhaler PMDI) and by the aerospace sector in research, development and test of life support systems.
Modes of use
Running as an independent unit

to simulate a pilot, fire-fighter or diver to evaluate breathing support systems;
to simulate patient breathing profiles (for medical and pharmaceutical applications).

Two breathing simulators can be run independently with phased or beating waveforms to simulate two breathers being sustained by one breathing support system.
Two breathing simulators can be run with phased waveforms to evaluate a breathing support system in conjunction with g-suit pressure system, eg pilot.
Two sets of two breathing simulators can be run in a linked mode to simulate two breathers with g-suits breathing on the same life support system.
Software package
The computer operating system enables:
Breathing profiles to be loaded in CSV format
Downloading and storage of breathing profiles
Setting of parameters for each breathing machine:

select breath profiles;
set any two of the three parameters below and the third is calculated and the value displayed.
breathing rate (breaths per minute);   tidal volume;   minute volume;
set number of cycles.
set phase angle (in linked simulators);
Viewing of flow profiles generated by the operation of the simulator;
Start and stop control;
Recording data in CSV format.
Control of up to four (linked) breathing machines (when specified).
Graphic dynamic display of bellows position.
Static display of actual volume/flow waveform (refreshed periodically).
Optional software packages
Profile generation software enables breathing profiles to be viewed, created, edited and exported for loading into the simulator control software. CSV files can be imported for editing.
Sequencing software allows a sequence of varying profiles to be strung together to recreate the changes in breathing patterns of a subject in a real-life situation. The sequence is executed automatically by the software program. Sequences can be saved, recalled at a later date, copied and edited.
Generation of breathing profiles
This can be:
customer defined/supplied in CSV format;
written or generated in the optional profile generation software described above (in CSV format);
recorded from living subjects by optional Si-Plan pneumotach system, in conjunction with the Si-Plan User Inhalation Profile and Interaction Recorder.
Si-Plan Electronics Research Ltd breathing simulators are used by a wide range of customers in the UK and abroad. Examples of application include are
Breathing simulators to test the life support systems for fighter aircraft pilots.
Breathing simulators to test pilot life support systems in altitude simulations.
Breathing simulators to test deep-sea diver life support systems.

Working at pressures of 100bar
Including humidification and temperature control of breathing gases.
The application enabled simulation of re-breathing with soda-lime bags to absorb carbon dioxide.

Breathing simulators for pharmaceutical companies to test inhalers for delivery of drugs to asthmatics. The breathing simulators reproduce human breath profiles recorded from patients as pressure-time profiles and also flow-time profiles.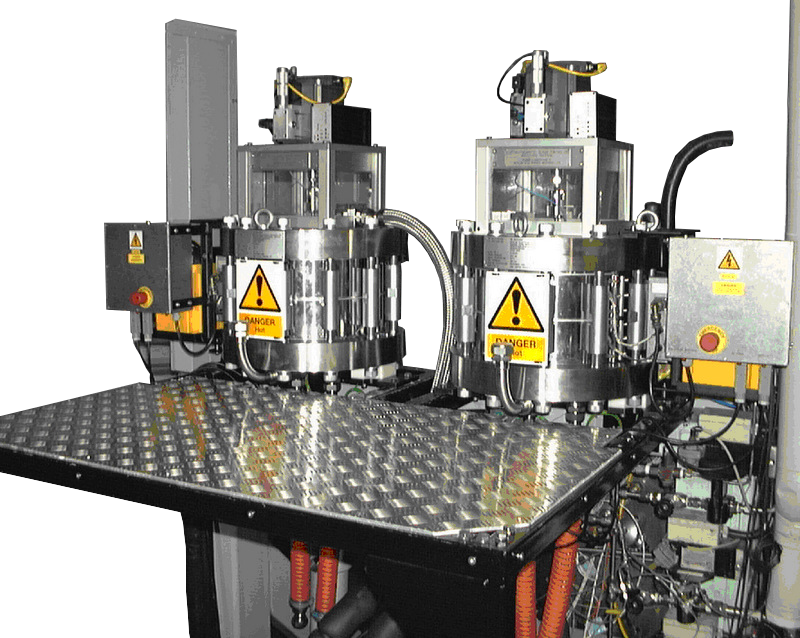 Special application breathing simulator to test deep sea diving rebreather life support systems.
Si-Plan's '625' breathing simulator was the starting point with enhancements to enable operation at pressures up to 100bar
Humidity and temperature generation were added to reproduce conditions found in the human body.