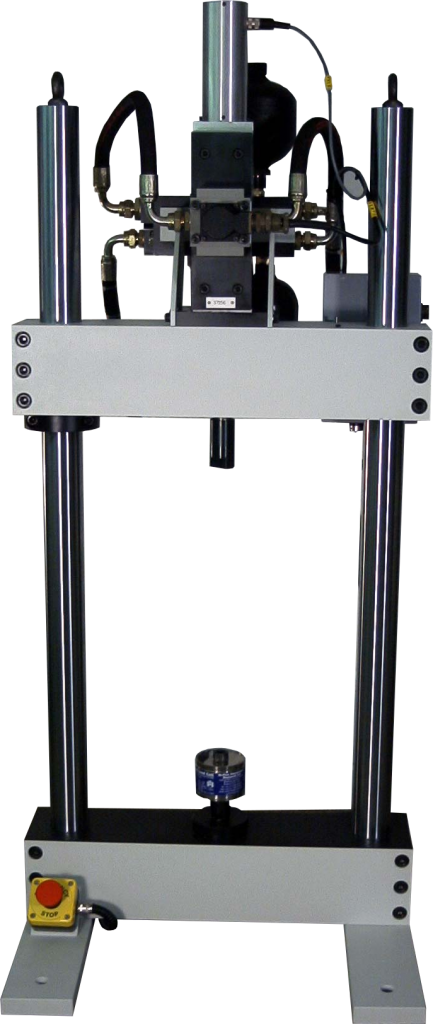 Servo-hydraulic fatigue test machine
5-25kN bench top system
A standard range of machines where the specifications can be adjusted to meet customer requirements.
 Frame
Rated up to 25 kN tension & compression.
Fixed bottom crosshead.
Movable top crosshead clamped by pinch bolts.
Actuator mounted on top cross head.
Two chromed solid steel columns.
Top and bottom crosshead and feet powder-coated (RAL7035)
Space between columns: 405mm
Standard column length: 1200mm.(650mm maximum daylight space).
Different column lengths available on request.
Weight, including actuator: 275kg
Actuator
Mounted on crosshead.
Capacity options.

2kN
5kN
10kN
(Actuators dynamically rated for 210 bar supply. Static = Dynamic x 1.5).
Built-in excluder seals and dribble lines.

Standard stroke options:
Servo valve
Standard servo valve for testing frequencies up to 75Hz.
High response servo valve for testing frequencies up to 100Hz
(providing an adequate oil supply is ensured).
Load cell
Fatigue-rated in line with the specified actuator.
Can be fitted to the piston rod end or bottom crosshead.
Displacement measurement
The actuator has an intergral displacement transducer working directly on the rear end of the actuator rod.
Controller
Hydraulic supply
Options
Frame may be used with a suitable existing hydraulic supply.
Frame may be purchased with a Si-Plan hydraulic power pack.
Accessories
Accessory options
Clip gauge.
Grips

Ball nut & ball cup.
Flat and round.
Wood's metal pot.

400mm2 slotted tooling plate to suit M12 T-nuts.