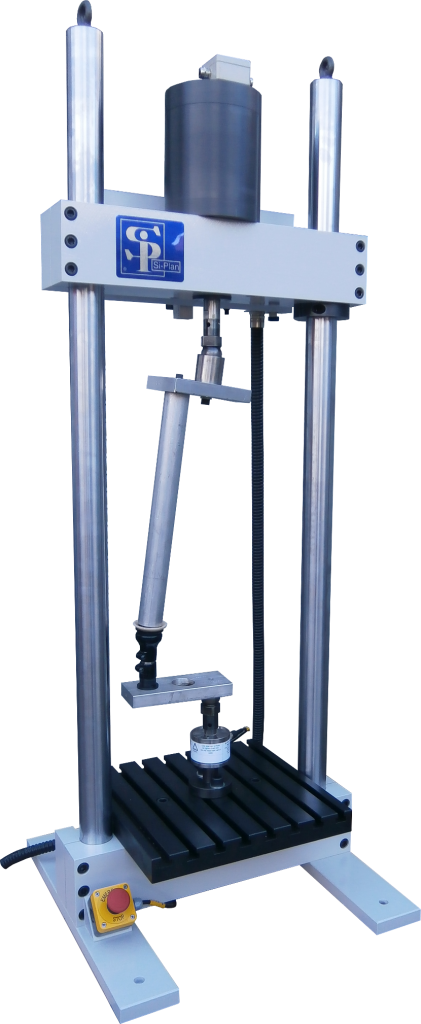 Servo-pneumatic fatigue test machine
2-10kN bench top system
A standard range of machines where the specifications can be adjusted to meet customer requirements.
Frame
Rated up to 25 kN tension & compression.
Fixed bottom crosshead.
Movable top crosshead clamped by pinch bolts.
Actuator mounted on top cross head.
Two chromed solid steel columns.
Top and bottom crosshead and feet powder-coated (RAL7035)
Space between columns: 405mm
Standard column length: 1200mm.(650mm maximum daylight space).
Different column lengths available on request.
Weight, including actuator: 220kg
Actuator
Low friction grade pneumatic actuator.
Mounted on crosshead.
Capacity options (shown as the static rating for 7 bar air supply):

2kN
5kN
10kN
15kN
20kN
25kN

Standard stroke options:
Load cell
The fatigue-rated load cell can be mounted on either the top or bottom crosshead.
Controller
Si-Plan Digital Control and Data Acquisition System with a Windows® PC which is utilised to provide the user interface for machine control and data capture.
Pneumatic supply
The compressed air supply for the actuator should be:
Between 5 and 10 bar.
At room temperature.
Free of oil contamination.
Filtered to 5 micron maximum particle size.
Advantages of pneumatic
High reliability – low maintenance.
Major price advantage over servo-hydraulic and screw-thread machines.
Little or no heat generated.
No fire risk.
Runs from filtered workshop air or bottled air.
Low inertia.
Inherent predictable stall thrusts.
Accessories
Accessory options
Clip gauge.
Grips

Ball nut & ball cup.
Flat and round.
Wood's metal pot.
400mm2 slotted tooling plate to suit M12 T-nuts.