Home
Index
Test machines
Test ancillaries
Measurement
Production
Services
Miscellaneous

About Si-Plan Electronics Research Ltd


About Si-Plan Electronics Research Ltd
Examples of turn-key solutions to customer requirements
Test Machines
International customer base


Si-Plan Electronics Research Ltd
designs and builds machines for testing and production
designs and builds fatigue, tensile, compression and torque test machines
designs and manufactures one-off solutions to customer requirements
is experienced in providing turn-key solutions
has a total in-house facility from design to manufacture
Products and services Ltd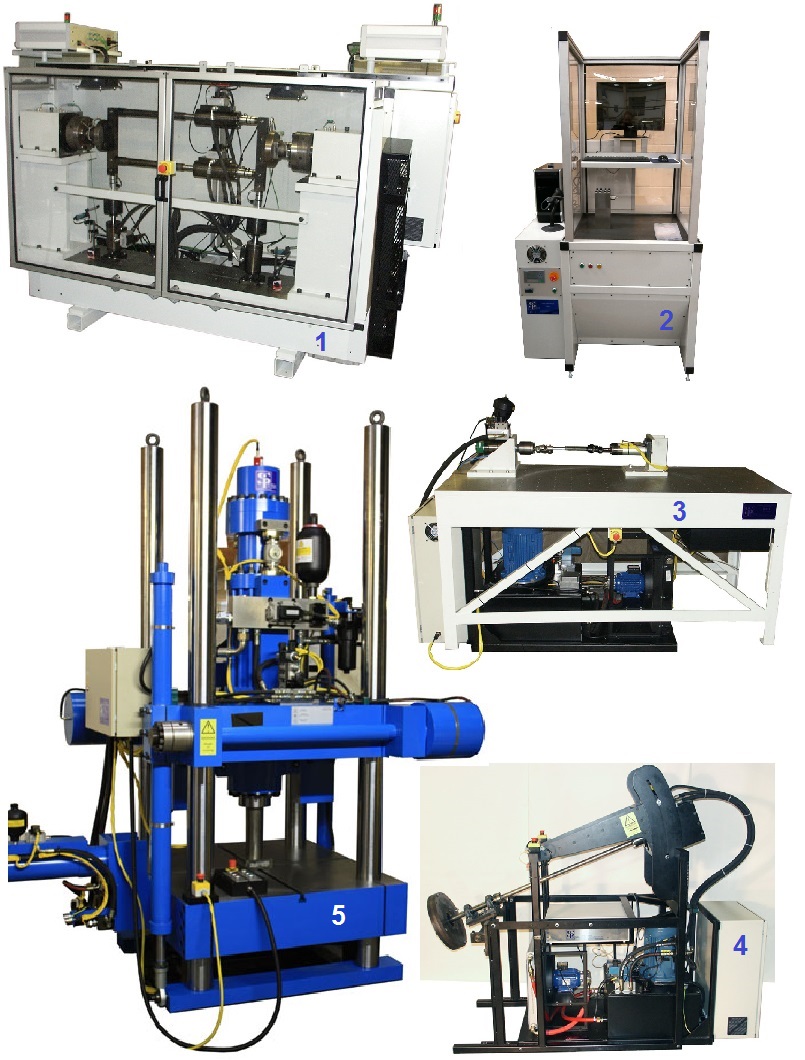 Double-sided bearing test rig. Four test heads. Up to 5,000rpm bearing speed. Applies radial and axial load. Digital servo-controller and data acquisition unit.
Production test machine for setting hydraulic pressure control valves. Digital servo-controller for automatic sequence and data collection.
Torsion test stand to determine dynamic stiffness constant of shafts. Maximum torque of 100Nm. Frequency up to 40 hertz. Angular deflections of ±30°.
Rotational durability test rig to test steering columns in vehicle installed geometry. Dynamic capacity 150Nm. Angular capacity ±720°. Cyclic frequency up to 2 hertz.
Dual axis servo-hydraulic test machine. Vertical axis: 500 kN compression for static/low frequencies, ±80 kN dynamic. Stroke 300mm. Side loading: ±50kN. Stroke 300mm.
Servo-pneumatic fatigue test machines
Servo-hydraulic fatigue test machines
Capacities from 5kN up to 3,000 MN.
Non destructive testing equipment for in-service monitoring of metal fatigue.
Endurance testing equipment, for example

motor vehicle clutch endurance test rigs
automotive brake testing rigs
steering joint test rigs
vehicle window winding rig
artificial limb testing machines
aircraft PCU test rigs
breathing simulators

Product quality assurance testing equipment eg medical inhaler drug dispensing.
Digital servo-controller
Digital servo-controller and data acquisition unit for new machines and upgrades.
Control for dynamic fatigue and tensile testing.
Specially written control and monitoring software for Windows® platform with DPMs. XY graph, XT graph and logger.
Actuators
Servo-pneumatic actuators (range 2 kN to 10 kN)
Servo-hydraulic actuators (range 5 kN to 3000 kN)
Semi-rotary servo-hydraulic actuators, up to 30,000 newton metres
Hydraulic power packs

Si-Plan designs and builds hydraulic power units
Flow rates of 8 litres per minute to 145 litres per minute per unit (multiple units can be operated in parallel
Fixed or variable delivery
Air cooled or water cooled
Typical operating pressures in the range 206 bar to 700 bar
Facilities

Customers' requirements are developed from concept through to finished article by Si-Plan Electronics Research Ltd personnel in departments including
Mechanical Computer Aided Design
Electronics Computer Aided Design
Mechanical engineering (including hydraulics and pneumatics) with CNC machining, welding and fabrication
Software development (control, monitoring, display and data logging)
Calibration
Si-Plan works with government establishments, universities, public and private companies worldwide in the aerospace, agricultural, automotive, medical and pharmaceutical sectors



Si-Plan's purpose-built
17,000 square foot factory
in Stratford-upon-Avon.


Si-Plan Electronics Research Ltd's products are in use in the UK and
Australia
Belgium
Brazil
Canada
France
Germany
India
Italy
Korea
Netherlands
Russia
Saudi Arabia
Singapore
Spain
Sweden
Switzerland
Thailand
USA
---
Si-Plan Electronics Research Ltd, Avenue Farm Industrial Estate,
Birmingham Road, Stratford-upon-Avon, CV37 0HR, UK
Tel International: +44 1789 205849 | Tel UK: 01789 205849
Fax International: +44 1789 415550 | Fax UK: 01789 415550
www.si-plan.com
enquiries@si-plan.com

---