Home
Index
Test machines
Test ancillaries
Measurement
Production
Services
Miscellaneous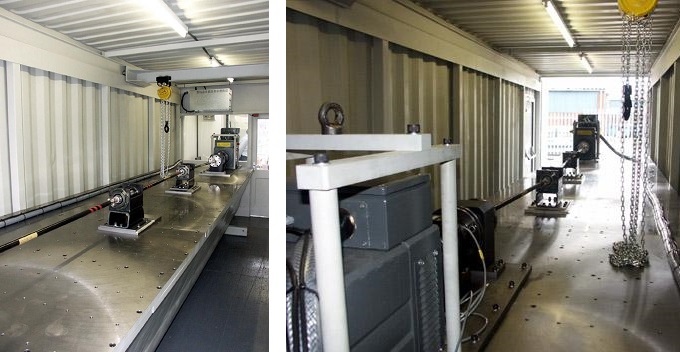 Torque test rig for rotational endurance. Designed for torsion fatigue testing. The design is superior to the traditional 4-square endurance test rig. It gives full control over the test sequence, providing programmable blocks of speed, torque and angular displacement. The software's block program module enables ramps of torque and angle and switching of control feedback parameter. The test stand can generate impulse and shock loads, either under torque or angle control.

Stiff base
Ground steel plate table with 100 x 200mm matrix of threaded holes to secure motors and fixtures
Accommodates parts from 50mm to 5400mm long
Si-Plan digital servo-control and data acquisition unit (up to 10kHz)
Servo motor operated in angle control
Servo motor operated in torque control
Regenerative motor control system significantly reducing power requirements
Torque capacity: up to 1000 newton metres (Nm)
Rotation capacity: up to1600 revolutions per minute (rpm)
Typical applications
Automotive testing
Aerospace testing
Design qualification
Dynamic testing of parts under torsional load
Drive shaft testing for flaps and slats in aircraft wings
Drive line testing
Evaluating rotational endurance of drive shafts
Evaluating rotational endurance of universal joints
Shipset preparation
Contact us with your specific requirements for dynamic and static torque test machines.
---
Si-Plan Electronics Research Ltd, Avenue Farm Industrial Estate,
Birmingham Road, Stratford-upon-Avon, CV37 0HR, UK
Tel International: +44 1789 205849 | Tel UK: 01789 205849
Fax International: +44 1789 415550 | Fax UK: 01789 415550
www.si-plan.com
enquiries@si-plan.com

---