Home
Index
Test machines
Test ancillaries
Measurement
Production
Services
Miscellaneous

Locked Column Torsional Testing Equipment
Applications
Steering column assemblies.
Torsion fatigue testing.
Stationary or locked format.
Can also be configured for column bending and axial fatigue tests.
Actuator: 3kN dynamic, ±50mm stroke.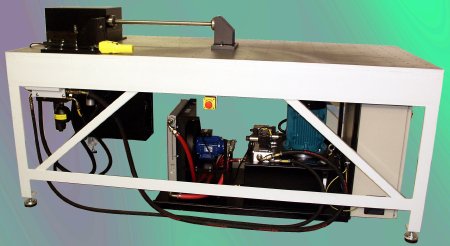 Angle Assembly
Angular capacity: ±30°.
Angular measurement: ±40°.
Resolution: ±0.02°.
Torque Assembly
Torque cell ±500Nm.


Torque capacity

300Nm dynamic
450Nm static.
Power pack
20 litre per minute air-cooled unit located under the rig table.
Updated 20 April 2005
---
Si-Plan Electronics Research Ltd, Avenue Farm Industrial Estate,
Birmingham Road, Stratford-upon-Avon, CV37 0HR, UK
Tel International: +44 1789 205849 | Tel UK: 01789 205849
Fax International: +44 1789 415550 | Fax UK: 01789 415550
www.si-plan.com
enquiries@si-plan.com

---