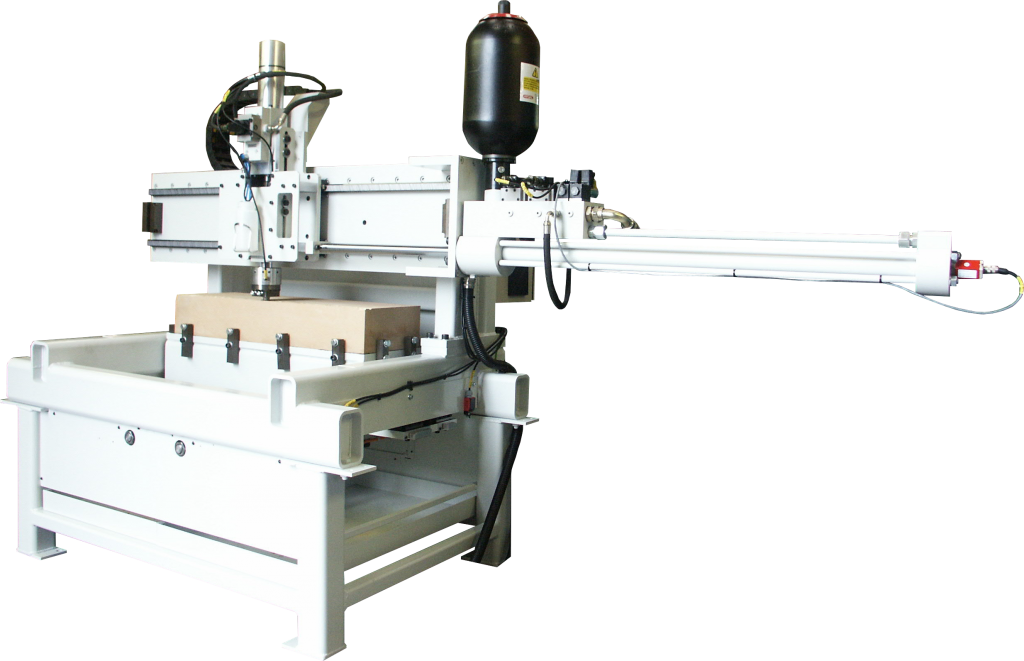 Single Cutter Test Machine
Application
The application is in research into cutting heads used for drilling in oil fields, where the cutting head is driven by a flexible drive shaft. The drive shaft can be up to 2km long and there is a certain amount of windup/springiness in such a system. When the cutting head sees a particularly hard piece of rock it can temporarily stall. Upon shearing the rock, the stored energy rapidly accelerates the cutter and drives it forward. This is arduous for the cutting tips.
The machine is designed for use in the laboratory to test cutters, aiming to replicate down hole cutting conditions as part of the research and development of cutting tips with improved life. In particular, this test rig can reproduce acceleration and deceleration and loads seen by the tips which have been previously measured by instrumentation in the field.
Machine specification
Test bed frame to accommodates rock piece
The actuators may be operated under either load or displacement control.
The test is programmed via a PC and Si-Plan's digital servo controller and data acquisition unit.
The machine can achieve linear acceleration and de-accelerations or a waveform.
Waveforms can be uploaded as CSV files.
X Axis

Lateral hydraulic servo actuator
Force up to 15kN
Stroke 1000mm
Speed 0 – 1000mm/second
25kN load cell
Integral displacement transducer

Y Axis

Servo control of the rock table position in the horizontal axis perpendicular to the travel of the cutter
Measurement of load in the horizontal plane 90° to the direction of travel
Load range: 0 – 10kN one direction.

Z Axis

Downward force hydraulic servo actuator
100mm of vertical adjustment
Force up to 15kN
Stroke 20mm
25kN Load cell
Integral displacement transducer

5.8 litre per minute hydraulic power pack